The Vintage Shed
With over 60 curated stalls The Vintage Shed is a true vintage lovers dream, a true vintage department store.  We have a wide range of antiques, retro pieces, reproductions, art deco, pre-loved clothing, framed pictures, industrial vintage, old-school toys, nautical, men's shed items and homewares.  Across from the the Shed is our little sister Seeking Vintage.

For vintage themed visual merchandising, set design props and wardrobe you are sure to find something here to re-create a scene of the 40's, 50's, 60's or 70's. 
Our little sister...... Seeking Vintage.
Seeking Vintage is the little sister adjacent to The Vintage Shed.
Little Sister is a carefully curated store with beautiful one off pieces .
Seeking Vintage specialises in Vinyl Records, Farmhouse Antiques, Antique Tools and Curios, Vintage Coastal and Boho, Scandi and Mid Century, Fashion and accessories and a dedicated Vintage Garden Room.
Location
Where to Find Us & Opening Hours
93 Mornington-Tyabb Road, 
Tyabb, VIC, 3913

Monday, 11am - 3pm
Thursday, 10am - 5pm
Friday, 10am - 5pm
Saturday, 10am - 5pm
Sunday, 10am - 5pm
Open all public holidays!
Join Us! Interested in becoming a Stall Holder with us?
Our passionate stall holders make the Vintage Shed what it is! We love seeing all their wonderful new pieces come past our counter ready for sale.
Do you think you have what it takes to have your own stall with us? To become a stall holder simply download and send in the application form, link at the bottom of this page.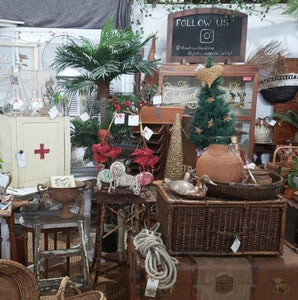 you cant beat word of mouth
You can't beat a good rummage through vintage and industrial knick knacks on a lazy Saturday afternoon, can you?  Trouble is, the good stuff gets snapped up too quickly in this city  - Melbournians just have SUCH good taste (!!), it's almost impossible to find a bargain anymore. That's why you have to plan a day trip to The Vintage Shed in Tyabb!

Lucy Feagins - The Design Files
Love this place! I never leave empty handed. My latest purchase was a fabulous retro wall unit which I get so many comments about. As it didn't fit in my car, they were only too happy to organise delivery which was cheap and fast. Will be back soon!

Rachel Whitney
The vintage shed is a unique place to find those special vintage pieces. 

Brodie Harper - Postcards